Welcome to Marc Fadel, Head of Clinic specialised in occupational health!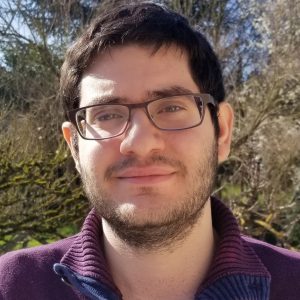 In May 2022, Marc Fadel, head of clinic at the CHU of Angers, joined the ReWork team of the SIRIC ILIAD, co-directed by Prof. Yves Roquelaure, to study work-related cancer pathologies.
A few months ago, Doctor Marc Fadel joined the ReWork team, after an already rich career. Starting with his medical studies, during which he discovered occupational pathology services*.
« These first experiences made me want to discover occupational medicine and health, a transversal discipline with concrete applications in the field. » Marc Fadel
*Occupational pathology services: referral structure for the prevention and treatment of pathologies with a suspected or proven link to work and job retention.
Occupational medicine: a speciality in itself
Marc Fadel then specialised in this discipline at the Raymond-Poincaré University Hospital in Garches, where he subsequently increased his field activities, but also his research activities. This is how he acquired both the skills of an occupational physician, on prevention and job retention – the core of his profession – and carried out various research projects, in particular through his master's degree in public health and epidemiology.
« I met Prof. Yves Roquelaure and the rest of the ReWork team during my master's internship. I am very happy to be able to continue this collaboration and to integrate the team as closely as possible! »  Marc Fadel
Research focusing on return to work after multiple myeloma …
By joining the ReWork team, Marc is taking on the subject through his dual role as clinician and researcher. In the context of the Myracle cohort of patients with multiple myeloma, his mission is to receive volunteer patients for teleconsultation on occupational pathology, in order to study occupational exposure* and to help them return to work and maintain their employment after cancer.
Occupational exposure*: A worker's exposure to a physical risk (vibrations, noise, repetitive movements, etc.), chemical risk (carcinogenic, mutagenic, reprotoxic agents, etc.), biological risk (hepatitis B virus, pulmonary tuberculosis, etc.) or risk related to the working conditions.
The aim is twofold: to detect work-related cancers and to determine the occupational causes of these diseases. Indeed, recognition as an occupational disease allows for financial revaluation and coverage of cancer-related care, which is particularly important, especially when patients lose their jobs.
Beyond this recognition, an occupational exposure determined to be the cause of a cancer may impact on the return to work. The conditions conducive to sustainable employment are weakened, or even called into question because of the after-effects of the disease or the risk of relapse.
 « Occupational causes – exposure to certain chemicals, for example – are often underestimated or even ignored by patients, but also by doctors » Marc Fadel
… To better inform patients & physicians
To carry out this research, Marc has several tools at his disposal, including interviews during occupational pathology consultations, but also questionnaires and job-exposure matrices, making it possible to determine all the exposures during an occupational career.
« In many cases, we see patients quite late in their care, sometimes years after diagnosis. The aim of occupational pathology consultations is to identify the patients concerned as early as possible.» Marc Fadel
To help clinicians better manage work-related issues, the ReWork team is developing a referral tool that will identify patients who require an occupational pathology consultation. For example, following exposure to pesticides, multiple myeloma can be recognised as an occupational disease. The challenge of this work lies in the information provided to patients and clinicians:
« Better information is needed for patients and doctors on the possible occupational origin of cancer, in order to inform patients of their rights and to promote a sustainable return to work. » Marc Fadel
ReWork team :